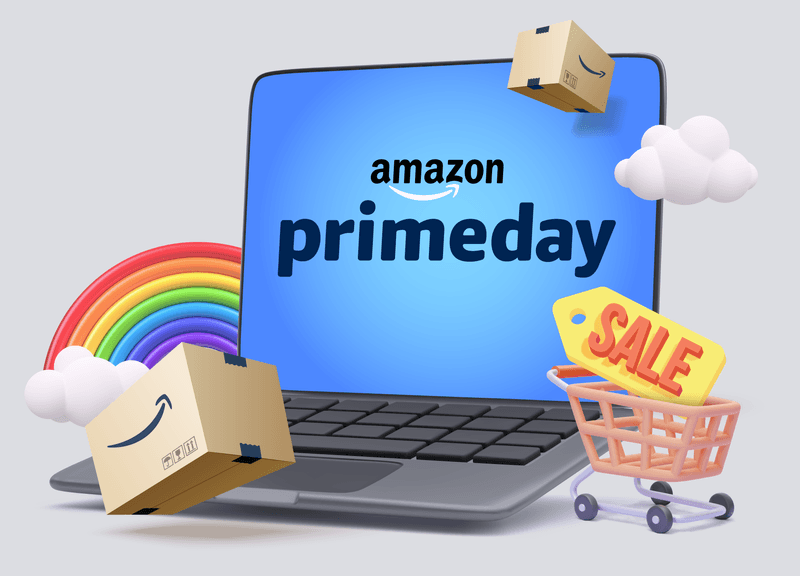 Have you been waiting long for the return of Amazon Prime Day? Well, wait no further because it's finally happening in July! Mark your calendars, folks!
What is Amazon Prime Day?
Ever heard of Prime Day? Well, we're here to tell you that besides Black Friday and Cyber Monday, it's the one sale you don't want to miss! Amazon holds this annual sale annually and is known for being a goldmine of countless deals and discounts so keep your eyes peeled!
When is Amazon Prime Day?
Amazon Prime Day 2022 is happening from 12 to 13 July. In 2020, because of pandemic-related constraints, it happened in October. This year, however, it's back in July! How exciting!
How can I shop on Amazon Prime Day?
To shop on Amazon Prime Day, you must first become an Amazon Prime member. But you don't have to worry because it's just easy to do that. To enjoy the most savings during this much-awaited sale, follow these steps
1. Register for a Shippn account to get your own US address. It will enable you to view all of the deals on Amazon US.
2. Next, create an Amazon account if you haven't already. Then, indicate your US address as the delivery address for your Amazon packages. 
3. Then, you'll need to sign up for an Amazon Prime membership. If your account is new, you can avail of the free 30-day trial. After the trial ends, membership costs $14.99 a month or $139 a year.
4. Once Prime Day 2022 comes, just sign in to your Amazon account and have fun adding all the deals to your cart!
What can I Buy from Amazon Prime Day?
Since it's Amazon, virtually anything under the sun may be on sale! But we highly suggest keeping a lookout on Amazon devices since they have always been the ones to have the highest discounts. These include but are not limited to the Fire TV stick, Kindle, Echo Dot, and more! These are just some of the bestselling products each year!
How Big are the Discounts that I'll Get from Amazon Prime Day?
On Amazon Prime Day 2022, you can save up to 70% off on Amazon devices and up to 90% off on other items! That's as big as the famous Black Friday and Cyber Monday sales! And to top it off, Amazon reported that during Prime Day 2020, the total amount that all shoppers saved thanks to the sale was about $1.4 billion!
Any Tips/Tricks for Saving on Amazon Prime Day?
Shopping on Amazon Prime Day alone can give you so many savings already, but then again, it won't hurt to take a few more precautions to make sure you'll get the best value for your money! 
1. Make a shopping list. While it's fun to add every deal you see to your cart, that would mean your wallet would suffer. We highly suggest listing down the deals you want so that you don't get go over your budget. Once Amazon releases its deals catalog, choose the products you want to buy and add them to your list on your Amazon account!
2. Do a price watch. Not sure if you're getting a good deal? Monitor product prices through a price-tracking website like Camelcamelcamel before you decide to buy. 
3. Consolidate your Amazon packages into one shipment. We know you won't be able to resist shopping from more than one Amazon merchant. Wait for all your Amazon packages to arrive at your US address and then consolidate them all into one shipment so you'll only have to pay one shipping fee for all of them! Amazon does not offer this service for international shipping so you'll save a lot more on your shipping fees with Shippn
You're all set for Amazon Prime Day 2022! Sign up for a Shippn account and be prepared to shop during this massive sale!
Our services will make it possible for you to consolidate or combine your Amazon packages together and ship them all at once from the US to your doorstep, anywhere in the world. 
If you have trouble ordering online we can shop on your behalf. We are able to purchase many hard-to-get products from various online retailers. You will pay using your Shippn account and we will purchase what you need.
Use the "BFM2022" code to get a 10% discount on your order with Buy For Me service, you can try it now, here.