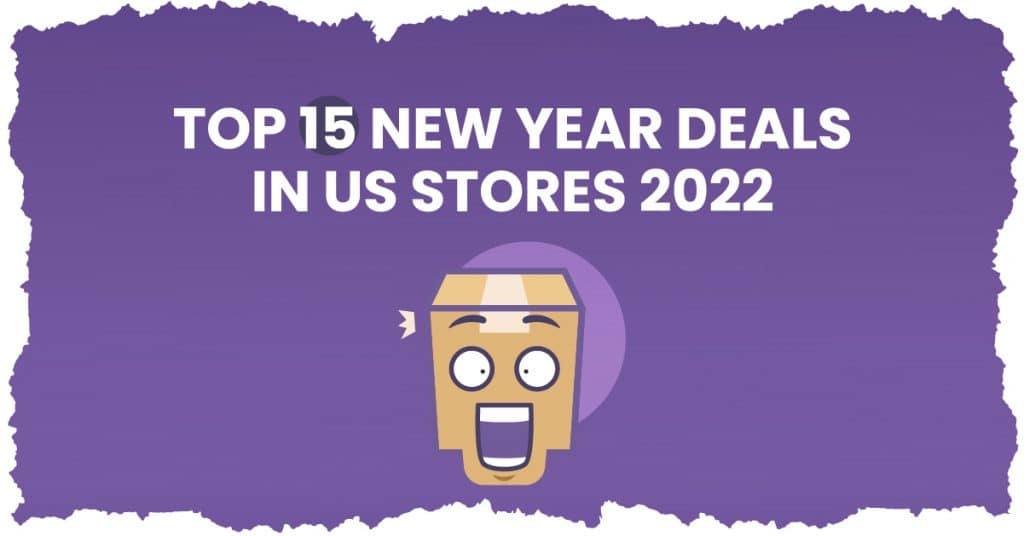 New Year is here! So get yourself up-to-date winter wear by availing yourself of the best New Year deals available. There are many massive deals on several US stores that you can benefit from.
Various stores are offering major sales that you can check out and shop from. You will find everything from bedding, home decor, loungewear to beauty products!
Grab yourself some amazing deals and get them shipped anywhere with Shippn
Nordstrom
Nordstrom is the one place where you will find things you need in every walk of your life. In their New Year deals of up to 50%, you will find everything like shoes, home decor, and clothing!
Casper
There are always huge deals on the new year, and shoppers all around the world wait to catch their favorite products at discounts. Casper also is always known to provide the best beddings, and now you can save up to 15% off on select mattresses, bedding, and more. 
So shop online and order away! If you are someone living outside the US and want to shop from Casper, then get your purchases shipped with Shippn
Bare Minerals
The most loved beauty brand BareMinerals is offering up to 60% off sales on its products. The sale is on several duos and trio packs of mascaras, lipsticks, and brushes. Of course, you will find great sales on skincare products too.
Bloomingdale's
Shop from Bloomingdale's and get up to 65% off on their entire stock. The categories include items for women, men, kids, shoes, handbags, accessories, and home. You also get to have an extra 30% off on items labeled as Extra 30% off. 
Brooklinen
Get yourself quality products from top-notch US brands at discounted prices. For example, Brooklinen is offering a massive sale on their ultra-cozy loungewear and bedding. So hurry up before the sale ends. 
Dermstore
Shop from the trusted skincare and beauty products store. Get up to 30% off plus an extra 10% off on sale items with the code EXTRA10. 
Their sale section includes hair care, beauty products, skin care products, and skincare tools.
Crane & Canopy
If you are a minimalist, Crane & Canopy is the right place for you. They have bedsheets in all the pastels and lighter shades.
Revamp your home with products from Crane & Canopy because they are offering up to 60% off on bedding and home decor.  
Everlane
Hurry up! Everlane has launched The Goodbye 2021 Event by offering 60% off on almost all the products. 
In the women's sale section, you will find fleece hoodies, baggy jeans, oversized turtlenecks, and much more. Likewise, you will find amazing winter wear items at highly discounted prices in the men's sale section. 
Lululemon
Are you a fitness enthusiast? If yes, you should be looking for your new gym gear from Lululemon. So hurry up and shop now because this sale ends on January 4th. 
Huckberry
Huckberry always provides unique and innovative designs in all of its products. Now you can get these items at discounted prices with their End of year sale of up to 40% off. 
Alo Yoga
Alo Yoga has launched a sale of up to 40% off on bras, leggings, tops, sweatshirts, and jackets.
Macy's
Macy's is offering 20%-60% off on all the categories' items. So get different authentic brands from Macy's at discounted prices this New Year. 
Naadam
With 2021 ending, Naadam has offered 21% off. So treat yourself to some quality products this New Year. 
ThirdLove
Get yourself some amazing and fun colors from ThirdLove. They are offering an End Year sale of 25% off on limited items. 
West Elm
Avail of all the best new year sales and Enjoy up to 70% off bedding and home decor on limited items at West Elm. 
It is very easy to shop from abroad with Shippn. If you are still not a member of Shippn, you can register now, here. Sign-up now and get your local address from anywhere in the world. Start shopping from more than 20 countries including the USA, let us deliver your order to you in 1-5 days regardless of where you live!
If you have trouble ordering online we can shop on your behalf. We are able to purchase many hard-to-get products from various online retailers. You will pay using your Shippn account and we will purchase what you need.
Use the "BFM2022" code to get a 10% discount on your order with Buy For Me service, you can try now, here.