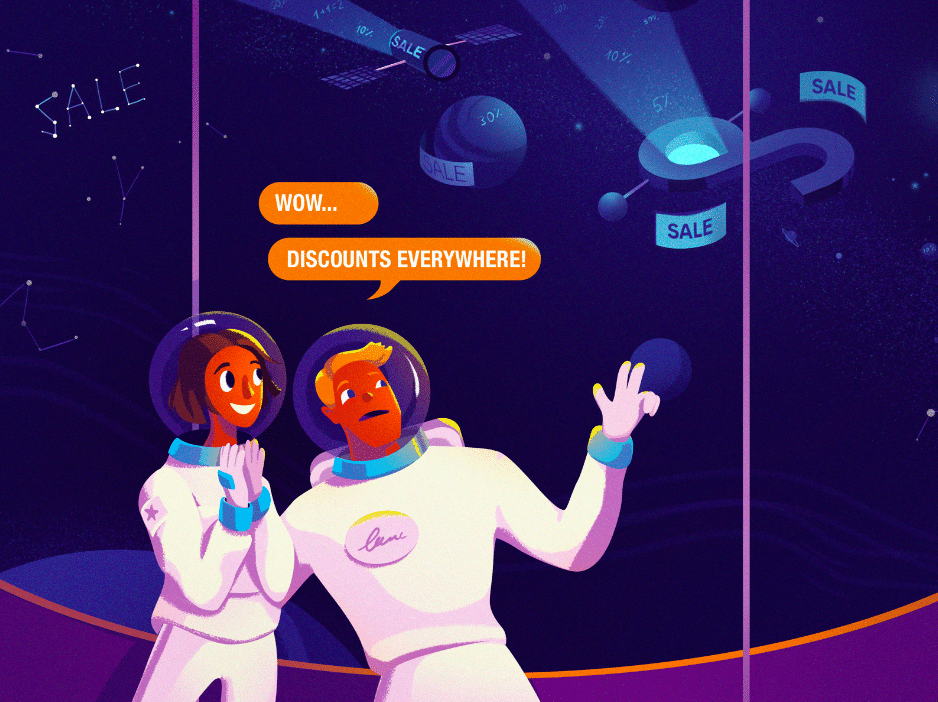 Spring is just around the corner, and all the major and big stores are here to launch their sales for the month of March. This month brings with it the beautiful season of spring. This season denotes all the floral happy colors and moods.
It doesn't only bring colors but also a lot of outstanding sales all around the world. So if you are thinking of getting yourself something or want to gift your friend something nice and cute, we have brought an elaborate list of sales for you in this blog.
The list of deals includes brands like Tommy Hilfiger, Bath & Body Works, Huda Beauty, and many more US brands. Shop top-notch quality products from the best retailers in the US and reship with Shippn.
American Eagle – 25% & up to 50%
American Eagle is offering 25% off on jeans and up to 50% off on all tops. Get excellent quality clothing with amazing discounts!
6 PM – up to 70% off
6 PM is offering up to 70% off on all new styles. This clearance sale offers all the winter wear and boots. Grab them before they are gone!
Anthropologie – 30% off
Anthropologie never disappoints us when it comes to shopping for quality products like clothes and home decor. Now they are offering a sale of 30% off on many products, including stationery, candles, decor, and more.
Barnes and Noble – BOGO Deals
Barnes and Noble is everyone's first choice when it comes to shopping for books. Now they are offering amazing BOGO deals of buy one get one 50% off. So get all those best-selling books and enjoy a pleasant evening with them.
Bed Bath & Beyond – up to 30% off
Get your beauty sleep right with sheets and pillow that provide comfort. Head over to Bed Bath and Beyond to get yourself home essentials with up to 30% off. Get all the best sleeping essentials from Bed Bath & Beyond.
Best Buy – up to 25% off select games
Best Buy always offers deals that are hard to resist, and right now, they are offering up to 25% on Mario games! So gear up your gaming skills and buy some latest gaming accessories.
Coach – 50% off new styles (bags)
Coach has always been offering the best bag designs and quality. Now you can get their bags with 50% off! So hurry up and shop before the sale ends!
Crate and Barrel – up to 60% off
Crate and Barrel are offering their clearance sale with up to 60% off on almost all of their products. So hurry and get those sophisticated and elegant home decor items now!
Huda Beauty – 50% off on select products
It's 50% off on Huda Beauty! So get that skincare and beauty products with half the price. This sale offers 50% off on select beauty products, so hurry up avail of the sale before it ends!
J. Crew – 50% off
J. Crew is offering 50% off on women's select outwear. The sale includes adorable dresses, jackets, sweaters, and more.
Macy's – up to 60% off
Macy's is offering up to 60% off on almost every item in their store. You will find home appliances, clothing, home essentials: perfumes, and much more in the sale.
Nordstorm – up to 60% off
Nordstrom is launching their clearance sale of up to 60% off. You will not want to miss out on this sale as all of us know we can get all the top-notch brands on Nordstrom.
Sephora – up to 40% off
Shop authentic beauty products from the most trusted beauty retailer, Sephora. You will find all the best beauty products like Huda Beauty, Tarte Cosmetics, Clinique, and many more.
Tommy Hilfiger – up to 40% off
Tommy Hilfiger is offering their bid spring stock up the sale of up to 40% on their latest designs from categories; men, women, and kids.
Victoria's Secret – up to 70% off on all styles
Hurry up! It's up to 70% off in your favorite US store Victoria's Secret. You will find sandals, lingerie, bags, body mists, and much more.
How does Shippn help you secure a product on sale?
Shippn is a trusted community in package forwarding and assisted purchase services. We have delivered millions of packages to people just like you, living outside the United States of America, helping them secure the top sales across thousands of stores. You can simply deliver the package to us, and we will deliver it to you.
It is very easy to shop from abroad with Shippn. If you are still not a member of Shippn, you can register now, here. Sign-up now and get your local address from anywhere in the world. Start shopping from more than 20 countries including the USA, let us deliver your order to you in 1-5 days regardless of where you live!
If you have trouble ordering online we can shop on your behalf. We are able to purchase many hard-to-get products from various online retailers. You will pay using your Shippn account and we will purchase what you need.
Use the "BFM2022" code to get a 10% discount on your order with Buy For Me service, you can try it now, here.