A wallet is one of the most useful accessories you will ever own. They are needed to keep cash, cards, and other important documents safe, but wallets are also an extension of your outfit and a great way to show off your style. When it comes to women's wallets, they are spoiled for choice, with a wide range of designs, from sleek and sophisticated pieces crafted from the highest quality materials to bold, bright designs that demand attention and let you have fun.
If you want to show off with a designer brand or prefer something affordable that you can change regularly, there is something to suit every budget and size requirement. We have all the information you need to find out more about what to look for when choosing a wallet, including construction and material.
Best Wallets for Women
Saint Laurent is a brand that needs little introduction and is celebrated for its luxury goods. This simple and stylish monogrammed envelope wallet is ideal for all occasions. It is small, well-made, and built to last, with the outer composition crafted using 100 percent calf leather. The wallet has enough space for several cards, is made in Italy, and comes in a range of neutral colors, including black, which is complemented by the gold tone of the iconic YSL logo plaque.

The Balmain monogram-plaque purse is crafted from black calf leather, and features debossed details and gold-tone hardware, completed with a monogram plaque. The simplicity of this design makes it appealing because it is a versatile and stylish wallet, small enough that it is easy to carry with you everywhere but large enough to fit your cards; it includes rear card slots.

Balenciaga is a tried and trusted brand, making some of the most stylish accessories that money can buy. The Hourglass crocodile-effect chain wallet comes with a hefty price tag, but the idea is that it should last you for many years to come. The classic combination of black and gold makes the design timeless, lasting for more than one season. The crocodile effect adds to the appeal, and the wallet is made in Italy using 100 percent leather. Other details include the magnetic fastening, front flap closure, and the internal card slots and zip pocket.

The Valentino Garavani VLogo signature wallet is an eye-catching piece because of the gorgeous silver color. The wallet is crafted using leather and completed with silver-tone hardware for the logo and a stylish detachable chain-link shoulder strap; this adds to the versatility of the wallet, making it easy to carry with you. Other highlights include the internal card slots, internal zip-fastening, and magnetic fastening on the top. This Valentino Garavani wallet is everything you will ever want and more.

Gucci is a fun brand that is instantly recognizable by its logo, which features all over the canvas outer of this purse. The beige color is versatile, mixing and matching with everything you own, while the signature web-stripe trim gives it a pop of color; the combination feels modern yet classic. There is a top zip fastening and keyring attachment, and the purse is made from canvas and leather trim.

Kate Spade New York is a brand known for its accessories, and this large leather wallet is both stylish and practical. The warm beige is a versatile color that will mix and match with everything you own, and the design is sleek and simple. The pebbled leather also features a jacquard lining interior and front zip closure, while inside is space for two slip pockets, 12 credit card slots, and a zippered compartment for coins.

If you are looking for something different, the Issey Miyake geometric folded wallet is it. This modern wallet features a geometric paneled design that is incredibly eye-catching and will demand attention, which is enhanced by the black and vivid pink colors used in its construction. The folded design has a press-stud fastening, and in the interior, there is space for card slots and a slip pocket. The composition is a mixture of polyester and PVC with nylon lining.

This small calfskin leather wallet by Karl Lagerfeld is portable and versatile and can be carried with you wherever you go. The appeal of this wallet is that it is embossed with a crocodile effect which makes it visually interesting. The outer is complemented by the silver-tone logo plaque on the front and a logo stamp on the back. The foldover top with press stud fastening is a classic design, and at just 10cm wide and 10 cm in length with 2cm depth, this is a tiny wallet that is just big enough to fit your cards or cash.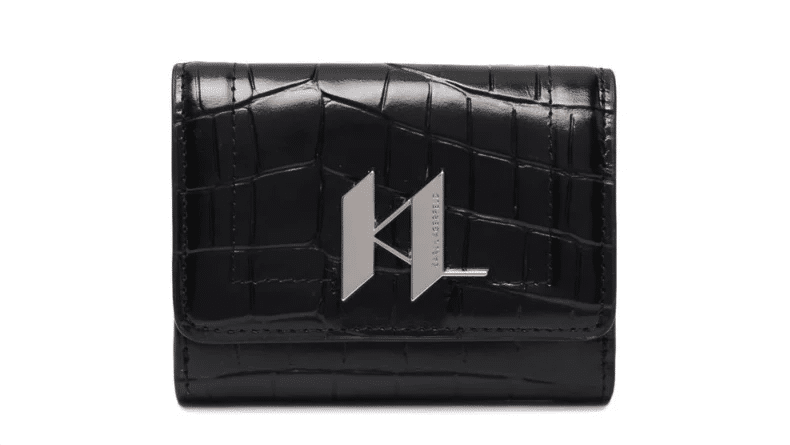 If you want a quirky and fun purse, then look no further than the Chiara Ferragni logo-plaque zipped purse. The appeal of this design is the coloring, which is baby blue and complemented by the gold-tone logo, zipper, and chain. The chain-link strap makes the purse more versatile and easy to use while also giving it a standout finish. It is made from Polyurethane and synthetic resin.

Any item from Prada will be appealing because they are crafted with attention to detail and use the highest quality materials. This wallet should be no exception and will be a design that you will want to show off. Made from 100 percent calf leather, the foldover wallet is a classic design, and it is kept simple here. Highlights include the gold logo stamp and press stud fastening. The interior has two note slots and space for several cards.


Shippn is a trusted community in package forwarding and assisted purchase services. We have delivered millions of packages to people just like you, living outside the United States of America, helping them secure the top sales across thousands of stores. You can simply deliver the package to us, and we will deliver it to you.
It is very easy to shop from abroad with Shippn. If you are still not a member of Shippn, you can register now, here. Sign-up now and get your local address from anywhere in the world. Start shopping from more than 20 countries including the USA, let us deliver your order to you in 1-5 days regardless of where you live!
If you have trouble ordering online we can shop on your behalf. We are able to purchase many hard-to-get products from various online retailers. You will pay using your Shippn account and we will purchase what you need.
Use the "BFM2022" code to get a 10% discount on your order with Buy For Me service, you can try it now, here.