Turkey is a nation that bridges western Asia and eastern Europe. It is located in one of the most special lands in the world called Anatolia. Since the human history began, Anatolia has hosted many cultures such as ancient Greek, Persian, Roman, Byzantine and Ottoman Empires. All these cultures have contributed to the Anatolian tradition in many ways. Especially, the fashion style of Anatolia represents exactly its cultural diversity. Also, the modern and dynamic lifestyle of Istanbul has shaped the fashion style of Anatolia as the final touch. Our team has compiled most iconic clothing and design brands in Turkey. Now shop online from Turkey, let us deliver your order to your doorstep in 1-5 days regardless of where you live!
The story of Herry begins with the opening of a women's wear boutique in 1992, in Istanbul. From that day on, Herry continues its journey as one of the leading women's apparel brands in Turkey. With its innovative designs, Herry has become the first choice of modern women who appreciate fashion, both in Turkey and abroad.
Born and came into life in Istanbul, Gizia is known internationally for designing incredibly crafted high fashion. Each piece of Gizia collections has been individually designed by the designers who get inspirations from all around the World.
Hatemoglu was started in 1924 to rank as the first ready-to-wear garment manufacturer of Turkey, and its classic style contributed a lot to the modernization process. Targeting middle age and older men through its suits, shirts, ties, coats, sport coats, raincoats, accessories, casual garments and classic garments, Hatemoglu is distinguished in its selective style focusing on details.
KAYRA has been active in various sectors since 1982. In 1992, the company started working in the field of garment production. KAYRA is one of the leading companies in Turkey. With an annual production capacity of 500 000, KAYRA reaches thousands of customers worldwide.
Founded in 2006 in Izmir, Dogo is a Turkish company succeeded to print creative designs on shoes first time in the world. Over the course of the years, the brand reached an enormous archive of more than 5.000 original patterns designed for shoes, bags, clothes and home decoration products.
Biggdesign is a special design brand established with the strength and experience of the Biggplus family. Biggdesign studies provide quality products that reflect the unique styles of contemporary Turkish designers and artists. The collections offered under the Biggdesign brand consist of art, design and quality components.
Shopi go maintains strong relationship and communication with its designers, producers, and official retailers by meeting them in person through direct communication. That is the reason why Shopi goes always presents rare and high-quality items to the customers.
Bueno Shoes has a history that its roots dated back to 1950s. The brand is produced with genuine leather and handmade in women's footwear industry has managed to create its own style by keeping in the foreground its convenience, quality, elegance and proved its success in Europe and Asia by exporting to 35 countries in the Americas Madrid protocol also a registered trademark is 100% Turkish property.
Aker combines world fashion and traditional motifs in its own design workshop and designs the scarf fashion in Turkey with more than 1000 patterns and color scarves designed every season. The Aker production facility, one of the largest and modern factories in the world, protects silk quality at the highest level with its advanced technology production systems.
Mavi is a brand of denim and jeans-wear founded in 1991, based in Istanbul, Turkey. The company manufactures jeans for both women and men, targeting a younger age group. Celebrities who wear this brand of jeans include Kate Winslet and Chelsea Clinton. Also, Barbara Palvin signed a contract with Mavi for a marketing campaign, recording a series of commercials.
Lidyana.com gathers globally known fashion brands and the most talented designers of Turkey under the same destination. You can find all the products you are looking for; either to enjoy your casual style or to complete your most elegant evening look on Lidyana.com.
Faik Sönmez offers unlimited options for women more than 700 style collection every season. It allows women to be more stylish and comfortable during special moments with evening dresses, caters to the business women with office combinations, offers casual chic options for everyday ease.
LTB By Littlebig is a brand of denim jeans founded in 1994 and headquartered in Istanbul, Turkey. LTB is one of the biggest denim company in Turkey and produces 17 million pieces of garments per year.
KAFT is a "design brand" that's founded on two values: creativity and care. It appeals to people who are in pursuit of beauty: to art-lovers whose preferences are not shaped by popular culture.
Established in 1958, Sail Laker's has more than half a century of production experience. Sail Laker's is producing with many well-known brands besides the shoes it produces. Its aim is to make its quality accessible to its valued customers anytime and anywhere.
Kikyrnik aims to always meet the expectations of its customers with its unique designs and products reflecting the fashion. Kikyrnik's concept is based on the relationship between product, quality and harmonious and unified brand image that comes from its own designs.
Derimod, established in 1974 with the goal of combining leather and fashion, has been the pioneering figure of a brand new lifestyle and elegance by embodying grace of leather in fashionable models. As the first brand combining leather and fashion in Turkey, Derimod is still a pioneering company of the sector after 43 years.
Roman is one of the leading brands in Turkey producing high-quality ladies' wear products and accessories.
Penti's story began in 1950 as two separate companies which were then united under a single brand. Over the years, Penti continued its growth in production and retail activities, expanding its offering of legwear targeting women and girls with men's socks, homewear & activewear, intimates and beachwear lines.
Powerful and stylish designs of adL that closely follow the fashion, the energetic and vibrant style of codentry – which is also a line of adL, the Night Zoom collection ensuring night elegance at all times, well known collaborations with the likes of Cengiz Abazoğlu, Mert Aslan, wide product range combined with the principle of always pursuing excellence, are just some of the important components that differentiate the brand in the sector.
LC Waikiki's journey started in France in 1988, continuing after 1997 as a Turkish brand. Today LC Waikiki trades in 848 stores in 38 countries, with the company's philosophy that "Everyone deserves to dress well" enabling people to enjoy accessible fashion through quality products at affordable prices.
Hotiç was established by Salih Hotiç in 1938 and is a shoes and accessories brand manufacturing unique and elegant designs suitable with the lifestyles of modern men and women. Real leather and natural materials are used for the products adapted to the lifestyles extending fashion and trends from day to night.
Founded in 1986, Ipekyol's first store was opened in 1989 in Rumeli Caddesi, Nişantaşı, İstanbul. Many successful women prefer especially Ipekyol. Ipekyol currently sells its products in seven countries including Cyprus, Northern Iraq, Azerbaijan, Bahrain, Kuwait, Qatar and Saudi Arabia.
Vakko is a leading Turkish fashion company. It produces and retails textile, leather goods, and accessories for both women and men. Vakko is the most prominent Turkish brand associated with luxury.
With its creative, innovative, customer- and technology-oriented approach, Koton adopts the policy of bringing seasonal trends together with authentic designs and offering them for sale at convenient locations and at attractive prices.
Sarar is one of the world's leading fashion brands in the premium segment. Sarar headquarter is located in Bomonti,İstanbul with the creations of the best quality stitching and material. Top quality workmanship and products are highly recognized by the world's major brand names.
Kiğılı is the men's clothing brand of Turkey, which contemporary, rational and successful men prefer. They continue to be indispensable to the city's professionals with their innovative vision that defies years and their world-class collections.
The company was founded in Istanbul by chemistry student Melih Çelet in the early 70s to produce leather goods for export and the local market through Desa's own retail outlets. The New York office was opened in 1986 and today Desa exports leather clothing and accessories to the US and Europe.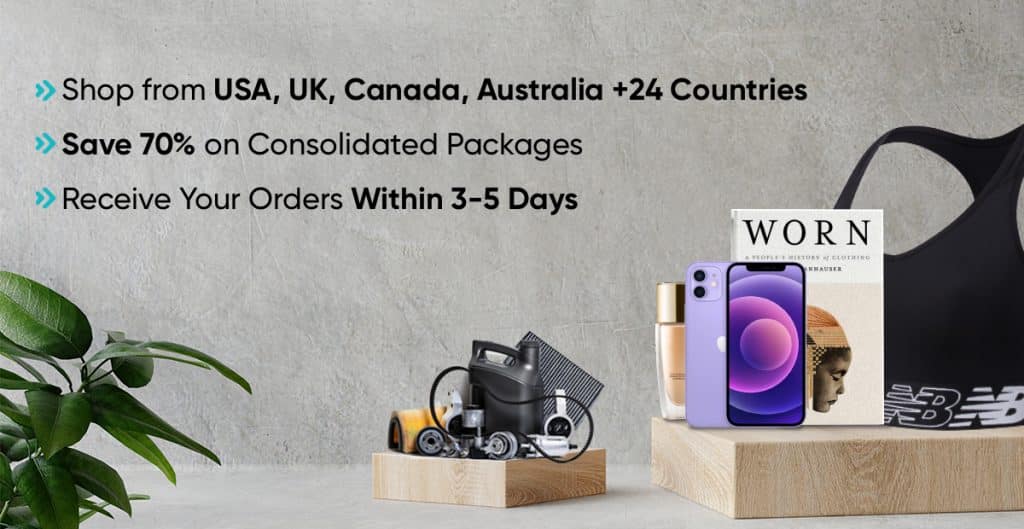 Shippn is a trusted community in package forwarding and assisted purchase services. We have delivered millions of packages to people just like you, living outside the United States of America, helping them secure the top sales across thousands of stores. You can simply ship the package to our hosts' addresses, and they will forward it to you.

It is effortless to shop from abroad with Shippn. If you are still not a member of Shippn, you can register now, here.

Sign-up now and get your local address from anywhere in the world. Start shopping from more than 25 countries including the USA, let us deliver your order to you in 1-5 days regardless of where you live!

Use the "WELCOME15" code to get a $15 discount on your first order with Shippn.