There is always an opportunity to score major deals on makeup, whether you are buying for yourself or your loved ones. Sephora, Nordstrom, Fenti Beauty, Glossier and Bobby Brown, and more have already begun rolling out swoon-worthy kits for the summer season. Or, take the time to shop individually from your favorite brand – Chanel, Marc Jacobs Beauty, and MAC Cosmetics will help you get into the holiday spirit.

Here, some of the best, most jaw-dropping makeup kits for everyone on your holiday 2021 gift list.

There's something for every beauty lover on this list, whether they prefer something more natural, dramatic, or a mix of the two. Some gift sets focus on a particular area of the face (lips, eyes, or brows, for example), while others are packaged like a variety pack with enough products to complete any day-to-day look.

By the way, it is very easy to shop from abroad with Shippn. If you are still not a member of Shippn, you can register now, here.

Sign-up now and get your local address from anywhere in the world. Start shopping from more than 20 countries including the USA, let us deliver your order to you in 5-7 days regardless of where you live!
Arguably one of the most iconic complexion products of all time, there's a good reason why Giorgio Armani Luminous Silk Foundation is a true cult classic, a staple for pro makeup artists and devoted customers alike. It's surprisingly versatile, easily sheared out, or built-up depending on how you apply it, though it always delivers a velvety-yet-radiant finish. This was the brand's first product and to celebrate the recent 20th anniversary, they also added 10 new shades to the line, bringing the total up to 40.

One of the brand's best-sellers, Vanish Seamless Foundation Stick is an easy-to-use complexion perfector that holds a permanent spot in our makeup routine, no matter how many other foundations we try. Waterproof yet weightless, the creamy formula glides on seamlessly, offering buildable coverage that works just as well all-over as it does to spot cover areas like a concealer would. Bonus points for the innovative triangular tip.
Makeup you'll wear every day.
What it is: Three easy-to-apply makeup essentials for a fresh-faced look
WHY IT'S SPECIAL:
Boy Brow shapes, fluffs, and grooms brows into place (choose Blond, Auburn, Brown, Black, or Clear)
Cloud Paint is an easy, fun, seamless gel-cream blush (choose from a range of buildable, sunset-inspired shades)
Lash Slick is the perfect everyday black mascara that visibly lengthens and curls lashes
Create stunning looks no matter your mood with this daring, unruly collection that encourages you to embrace every aspect of your personality. Featuring everything from buttery soft makeup to innovative brushes, Untamed will help you conquer each day with confidence and charisma.
Let your inner beauty shine through with Clean Beauty Essentials, a collection of 5 full-sized clean beauty favorites hand-picked to create a "no makeup" look in minutes. Begin your day with Skin Tint Foundation to moisturize and even skin tone; target dark circles or discoloration with ultra-bendable Skin Care Concealer. Brighten eyes with a sweep of smudge-proof Sugar Coated Mascara. Finally, show your delicate lips some love with nourishing Stay Calm® Lip Balm and finish with Shine Infusion™ Lip Oil for healthy-looking lips that shine. Our Clean Beauty Essentials collection will make you feel as good as you look—effortlessly! Made in Italy.
Inner Beauty Clean Beauty Essentials includes:
Think of the Start-Up Kit as your desert island set. Cover up grays at your hairline with The Best Eyeshadow, or use it to fill in brows. Dab Just A Sec or Cool Gloss onto cheeks for extra glow or shine. The Start-Up Kit is our core collection- and a hint of what's to come.
Me, My e.l.f. & Eye is all you need to create a flawless chic eye look! Groom your brows and lashes with the Clear Brow and Lash Mascara and apply the eyeshadow from the Rose Gold Palette for a hint of color to the eyelids while lining your eye with the No Budge Retractable Eyeliner to make your eyes stand out. Sample e.l.f. 's best eye products in one set!
Set Includes:
Clear Brow & Lash Mascara – Dual-ended Clear Brow & Lash Mascara helps you easily achieve healthy-looking, naturally groomed lashes and brows.
Rose Gold Eyeshadow Palette in Nude – Achieve beautiful bold or subtle eye looks with these perfectly curated, nude eyeshadow shades. This collection of hues are ideal for shading, highlighting, and defining the eyes.
No Budge Retractable Eyeliner in Black – This waterproof, retractable eyeliner checks all of your pencil liner requirements. Creamy, pigmented, and with ultimate staying power? You got it!
Get the Look: Go Nude, Go Smokey, Go Glowy!
Dot Magnetic Plush Paint in Saint Tropez on cheeks and eyelids and blot for a soft velvety stain
Press a dot of Saint Tropez on lips for a blurred natural stain
Apply Magnetic Luminous Eye Color in Rustique on the eyelid and blend with fingers or brush
Dot Magnetic Nude Glimmer in 24K Goddess on inner eye corners to brighten eyes
Add Gel Color Lip + Cheek Balm on lips and cheeks for a natural glow
Apply Magnetic Luminous Eye Color in Immortal along the upper and lower lash line and into the crease for a smokey eye
Outline lips and fill in with Intense Matte Lip + Cheek Color in Fringe. Swipe Magnetic Nude Glimmer in 24K Gold on cheekbones, brow bone, and cupid's bow for the ultimate glow
You truly can't go wrong with their Voluminous Original Mascara, which makes lashes look up to five times thicker and never clumps. The tried-and-true pick also contains plenty of conditioning ingredients so you get some extra fringe benefits (get it?), and is a staple for many pro makeup artists.
McGrath is well-known for transforming everyday skin into a glassy, glowy masterpiece, and with this Skin Fetish Highlighter & Balm Duo, you can do the same. The dual-ended stick touts a transparent, ultra-creamy balm on one end and a shimmery, equally creamy highlight shade on the other. Pair the two together for ultimate dewy radiance, or use them solo.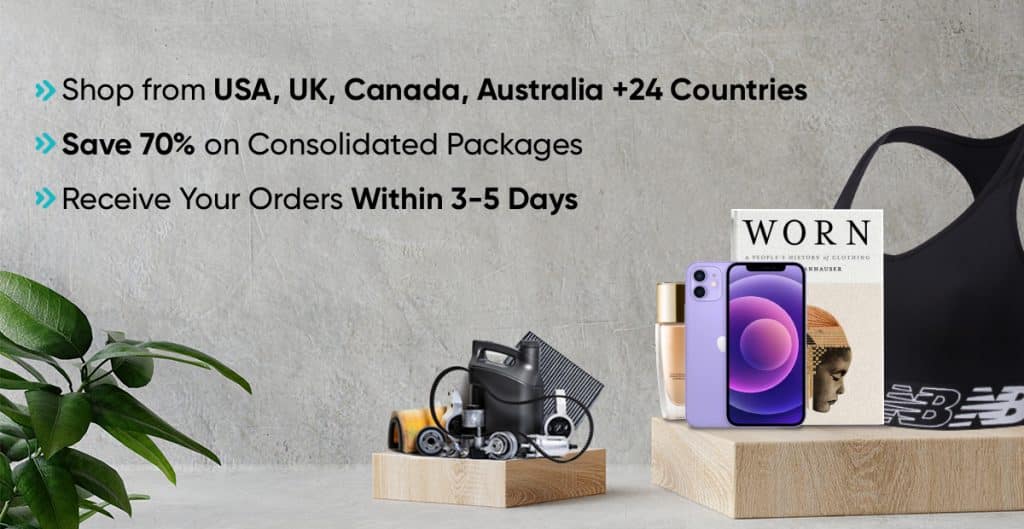 Shippn is a trusted community in package forwarding and assisted purchase services. We have delivered millions of packages to people just like you, living outside the United States of America, helping them secure the top sales across thousands of stores. You can simply ship the package to our hosts' addresses, and they will forward it to you.

It is effortless to shop from abroad with Shippn. If you are still not a member of Shippn, you can register now, here.

Sign-up now and get your local address from anywhere in the world. Start shopping from more than 25 countries including the USA, and let us deliver your order to you in 1-5 days regardless of where you live!

Use the "WELCOME15" code to get a $15 discount on your first order with Shippn.